122-page best practices manual for the Canadian Military's Employment and Education Service Providers helps program facilitators and administrators apply policies, procedures and resources to help their armed services clients.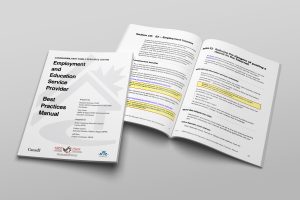 As sole technical writer on the project, worked closely with the employment & education coordinator.
Developed Word template, redeveloped information architecture and content.
Thank you for all you do. It is wonderful working with you and the manual is amazing.
Elizabeth Nicholas – CHRP, Employment & Education Coordinator